EC-14 Single Phase Faulted Circuit Indicator
The EC-14 is a single-phase cable mounted unit designed for use on either insulated or uninsulated cable. The unique screw opening mechanism allows for application to energized cable with a hot stick. The EC-14 is suitable for underground or overhead use and incorporates a silicon rubber pad, which prevents the unit from sliding on a cable or skating down the catenary in overhead use.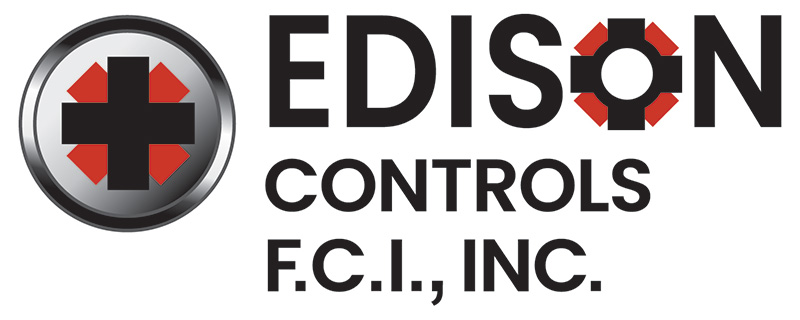 Edison Controls Faulted Circuit Indicators offer a number of electrical options to meet the changing requirements of modern distribution systems. More extensive use of reclosers, current limiting reactors, and phase correcting capacitor banks etc. make the selection and specification of Faulted Circuit Indicators (FCIs) more complex.
Range of Electrical Options and Specifications:
Single or Three Phase Units – A single phase FCI has a single current sensing core assembly and a single indicator viewing assembly. A three phase unit has three independent sensing cores and one indicator viewing assembly. Three phase units are designed for use on insulated cables in underground applications only.
Current or Voltage Powered Units – FCIs, single or three phase, are powered from the system line current, if the line current is greater than 0.5 amps. For applications where the line current may fall below 0.5 amps during any part of a 24 hour period, voltage powered units must be used.
Reset – Immediate or Delayed – FCIs are available with either immediate or timed reset. The immediate reset mode will reset the unit approximately 75 seconds after normal power is restored. The timed reset will delay the reset pulse for up to 72 hours after normal power is restored.
Inrush Restraint – FCIs are available with or without inrush restraint. Inrush restraint is often used to coordinate with reclosers and is available in two forms – dual trip and delayed trip. Dual trip is used when the inrush current is known. Delayed trip is used when the inrush current is not known or when it may vary over a 24 hour period.
Insulated or Non-Insulated Cables – For uninsulated cables a single phase hot stick unit must be used. For insulated cables either single phase hot stick units, remote indicating units, or three phase units may be used.
Trip Levels and Reset Levels – The trip and reset levels are system dependent and require a reasonable knowledge of operating parameters. The logic charts on pages 2 and 3 are useful in establishing the initial trip and reset levels.
General Specifications

Trip Level: 25 – 3000 A with repeat accuracy of +/- 10%
Reset Level: l.0A standard; 3.0A or 0.5A l00v/230V for secondary voltage reset unit.
Reset Time: resets automatically in one to four minutes after restoration,
unless timed reset is specified.
Trip Response: Normally 1 ms or less; (refer to trip response curve below)
Power requirements: Line powered
Adjacent Field Susceptibility: Immune to adjacent magnetic field tripping
Overload Capability: 40,000A peak per ANSI/IEEE 495-1986
Maximum Continuous Current (Non-trip State):
3.0A reset Models: 800A
1.0A reset Models: 300A
0.5A reset Models: 150A
Environmental Capability: Meets ANSI/IEEE 495-1986
Life Expectancy: 20 years
Trip Response Curves